When testing speed tests for the ultimate speed test test, after looking at the results below, it was noticed that the speed test can be divided into three categories.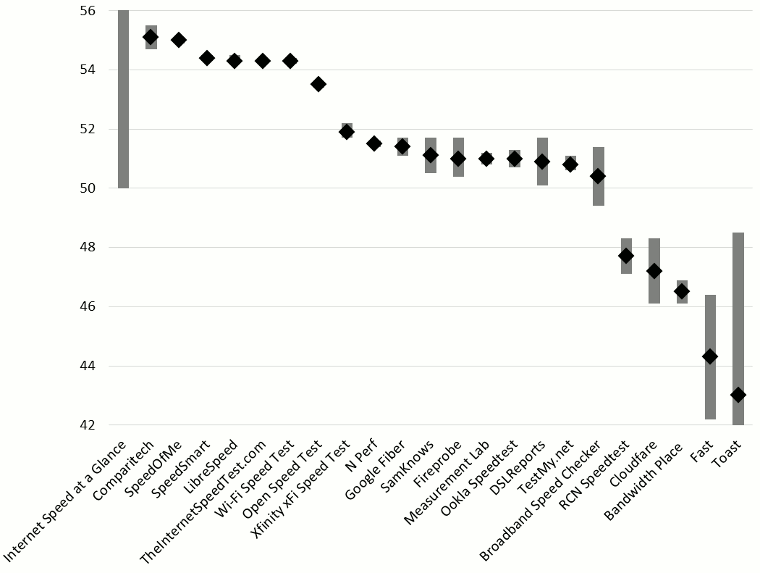 See the page Accuracy check for the details of the measurements.
These three categories are:
Realistic
Mainstream
Conservative
Realistic
As described at the page Internet speed with trial and error I concluded that the real internet speed my ISP provides is 56Mbps instead of 50Mbps. Assuming 56Mps is delivered, it must be concluded that only a few speed tests show a realistic download speed. These speed test are:
Note that TheInternetSpeedTest.com and the Wi-Fi Internet Speed Test are in the graph but not in the list above. Research showed that these speed tests are based on the code used for LibreSpeed.
The outcome of the ultimate speed test test 2020 is that SpeedOf.Me is the most accurate speed test when using the max. download speed.
Mainstream
Ookla's Speedtest has been the speed test leader for years. It is the most commonly used speed test. This is largely because most ISP speed tests are based on the Ookla speed test.
Speed tests with results similar to the Ookla speed test are (besides the speed test of your ISP):
Note that the first ultimate speed test test compares speed tests in this category.
Based on that test, it was concluded that Google Fiber (speedtest.googlefiber.net) has the best overall score, Xfinity xFi Speed Test (speedtest.xfinity.com) is most accurate and Internet Speed at a Glance (speedtest.zomdir.com) gives the quickest insight.
Conservative
Some speed tests which gives lower values as download speed. It is best to consider the results of these tests as the lower limit. You can be confident that you will reach these internet speeds.
Speed tests belonging to this category are: